A guide to home fragrance
Without setting foot outside, suffusing a dwelling with scent can transport even the most committed homebody to the farthest—or innermost—place.
The mode of delivery can take many forms: brewing a strong cup of tea; zesting a lemon; opening a window to catch a sweet breeze. But for those who wish to imbue their space with an aroma that will linger, gratifying alternatives are at hand.
Our Aromatique Incense, Candles and Room Sprays are each crafted to inspirit the abode, and the mind.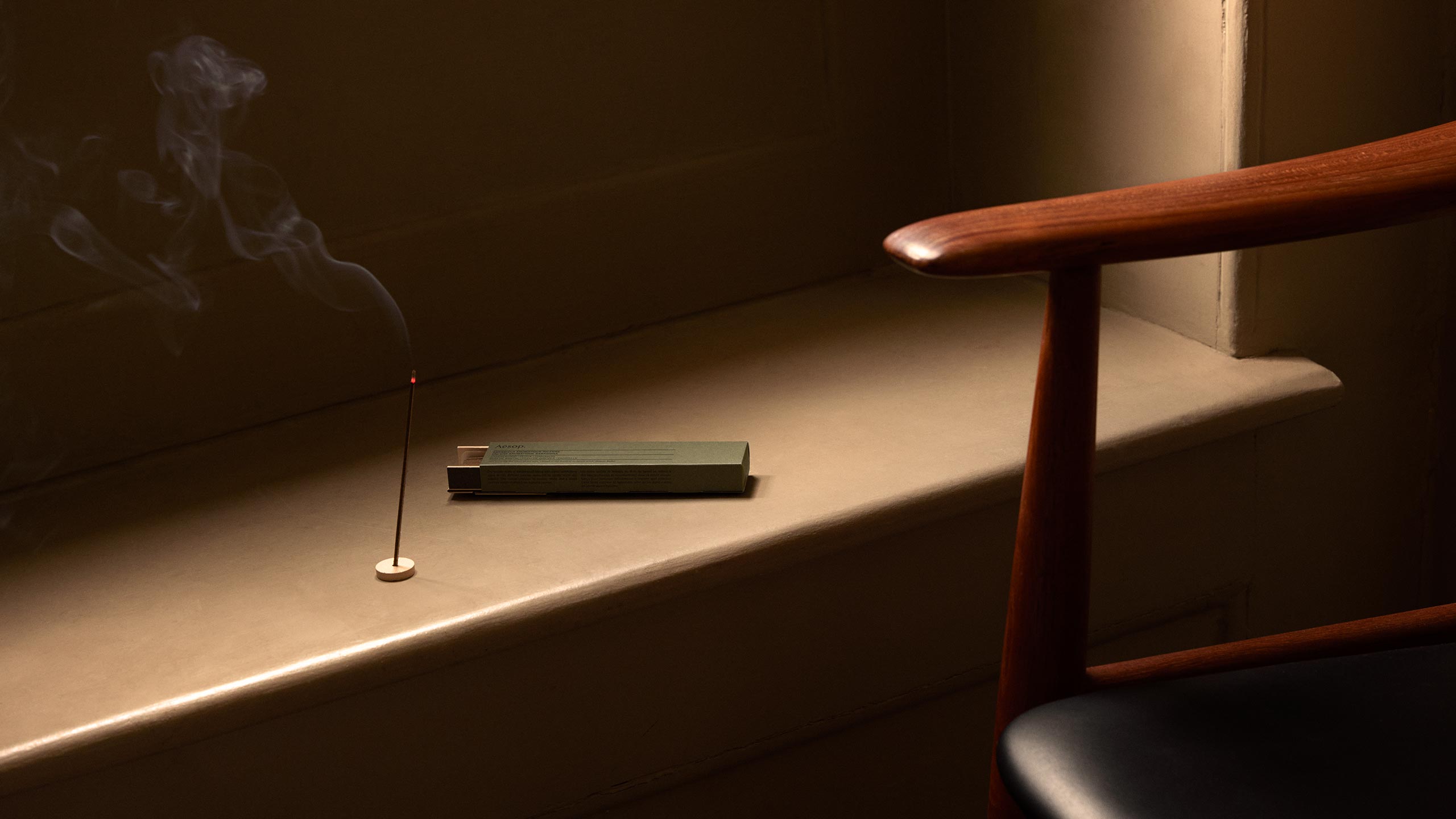 Aesop Aromatique Incense
A writer conjuring worlds out of thin air. A stick of incense yielding ribbons of smoke. Images of the musing, creative spirit at work provided inspiration for our latest foray into the realm of scent—Aromatique Incense.
Three formulations comprise the collection, each named after a celebrated female author (or her oeuvre) from Japan's Heian period: Murasaki, Kagerou, and Sarashina. Realised in collaboration with long-term fragrance partner Barnabé Fillion and a revered incense atelier in Kyoto Aromatique Incense—along with the Bronze Incense Holder designed for Aesop by Vogel Studio—marks a new chapter in the story of Aesop aromas for the home.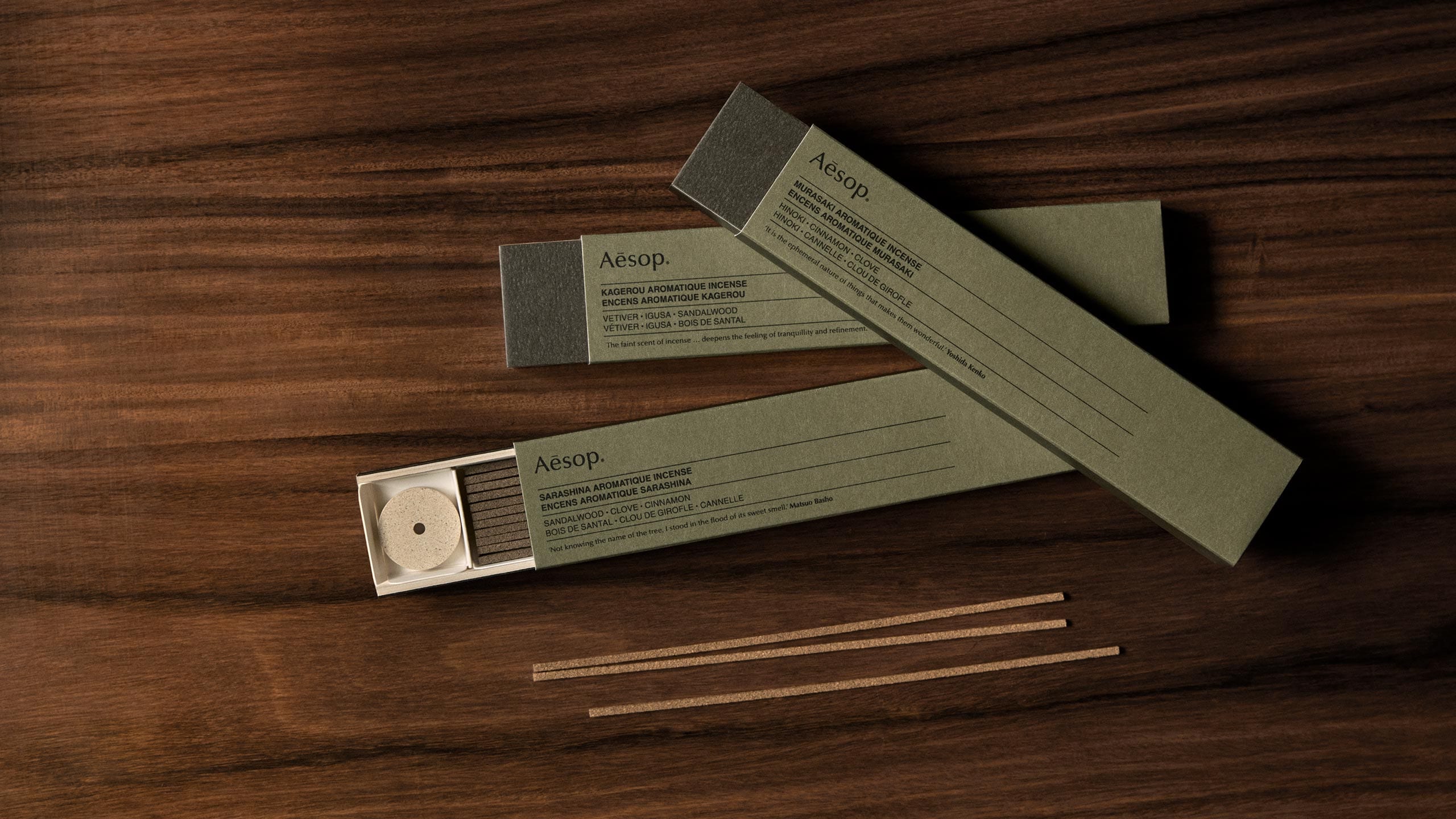 Murasaki Aromatique Incense
Paying homage to Murasaki Shikibu—poet and author of what is often considered the world's first complete novel, The Tales of Genji—Murasaki Aromatique Incense is an experience in scent that is likely to find favour with those who relish Hwyl Eau de Parfum and enjoy aromas of warm spice, as found in Coriander Seed Body Cleanser.
Spicy and resinous, Murasaki Aromatique Incense comprises a melange of Hinoki, Cinnamon and Clove. Once lit, the dry, balsamic notes of Hinoki are met with the comforting piquancy of Cinnamon and Clove, producing a soft, warm aura that resolves in a smoky, woody accord.
Kagerou Aromatique Incense
At the green, herbaceous end of the collection, Kagerou Aromatique Incense is a tribute to the unnamed but prolific noblewoman writer of the Kagerō Nikki, a diary that paints an intimate portrait of marital life in the Heian period.
Kagerou is distinguished by woody, earthy and smoky aromas of Vetiver and the dry woods of Sandalwood, which are lent nuanced depth by green notes of Igusa. This incense will hold a particular appeal for those who enjoy Reverence Aromatique Hand Wash, Reverence Aromatique Hand Balm, Déodorant and Déodorant Roll-On.
Sarashina Aromatique Incense
Comforting Clove and sweet Cinnamon are rounded out by voluptuous, refined Sandalwood in Sarashina Aromatique Incense, which takes its name from the Sarashina Nikki: a poetic travel journal—and one of the earliest known examples of the genre—written by a woman known only as 'Daughter of Sugawara Takasue'.
Those who are drawn to Rejuvenate Intensive Body Balm, Moroccan Neroli Shaving Serum, Moroccan Neroli Post-Shave Lotion and Perfect Facial Hydrating Cream are likely to gravitate towards Sarashina Aromatique Incense.
Bronze Incense Holder by Vogel Studio
Lustrous and substantial, the Bronze Incense Holder has been designed by Vogel Studio to accompany the range of Aromatique Incense.
Like an open hand turned upward in a gesture of both holding and offering, this weighted dish brings gravity to the ethereal scene of burning incense. Though each stick is evanescent, over time, the Bronze Incense Holder will develop a natural patina—a visual memory of smoke and ash that can be left to evolve, or removed with a metal polishing solution.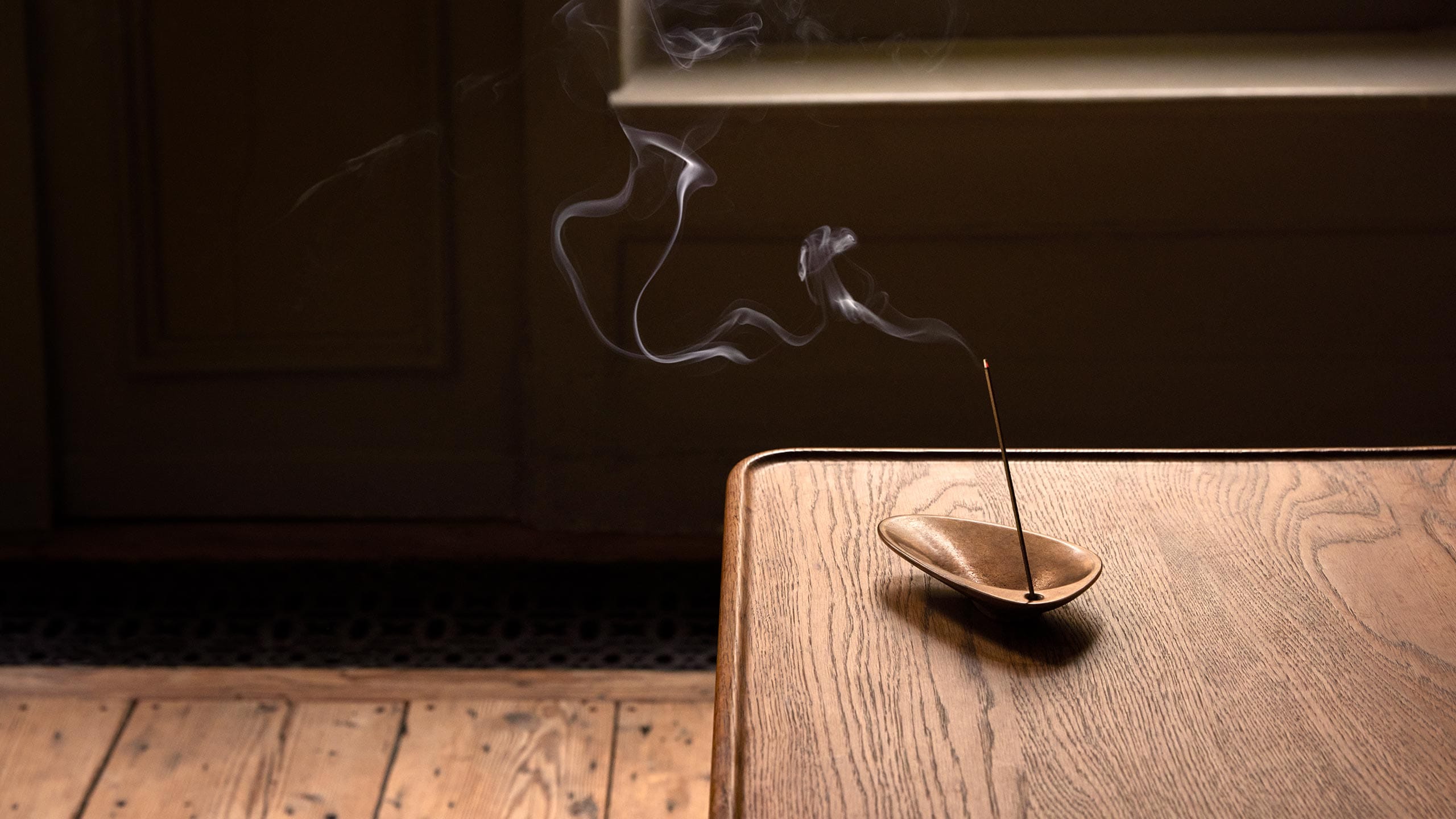 Aesop Aromatique Candles
For punctuating darkness and centring attention, few actions can beat the lighting of a candle. Be it on a patio, an altar, or a dinner table, the simple process of putting flame to wick is a miniature ceremony as affecting as it is ancient.
The Aesop Aromatique Candle collection comprises a trio of formulations, housed in ceramic vessels and imbued with entrancing scent. Named in honour of an important figure in the history of astronomy, each candle is an ode to the human yearning for illumination—in the skies and in the home.
Aganice Aromatique Candle
Renowned for her particular knowledge of lunar cycles, Aganice of Thessaly was an astronomer of the second or first century BCE. With its floral, spicy, fresh aroma—distinguished by Mimosa and Cardamom with discreet notes of Tobacco—Aganice Aromatique Candle pays homage to the work of this early female scholar of the stars.
Callippus Aromatique Candle
Callippus Aromatique Candle is named for the Ancient Greek astronomer who refined the planetary theory of time. From ignition to extinguishment and beyond, Vetiver, Frankincense and Shiso collude to create a lingering fragrance that is woody, earthy and green.
Ptolemy Aromatique Candle
Much of medieval astronomy was shaped by the studies and discoveries of the Greek-Egyptian astronomer Ptolemy, the figure of inspiration behind Ptolemy Aromatique Candle. With Cedar, Cypress and Vetiver, it conjures the resinous, earthy, woody scent of a dense, old-growth forest.
Aesop Aromatique Room Sprays
With one spritz, a place, and a moment, conjured. Each of the three Aesop Aromatique Room Sprays is named after an ancient Greek locale: Cythera, Olous and Istros. Irrespective of the time or location of dispersing, the aromatic blend of ingredients in each formulation elicits moonlit gardens, buzzing bazaars, or ancient dwellings encircled with perfumed vegetation.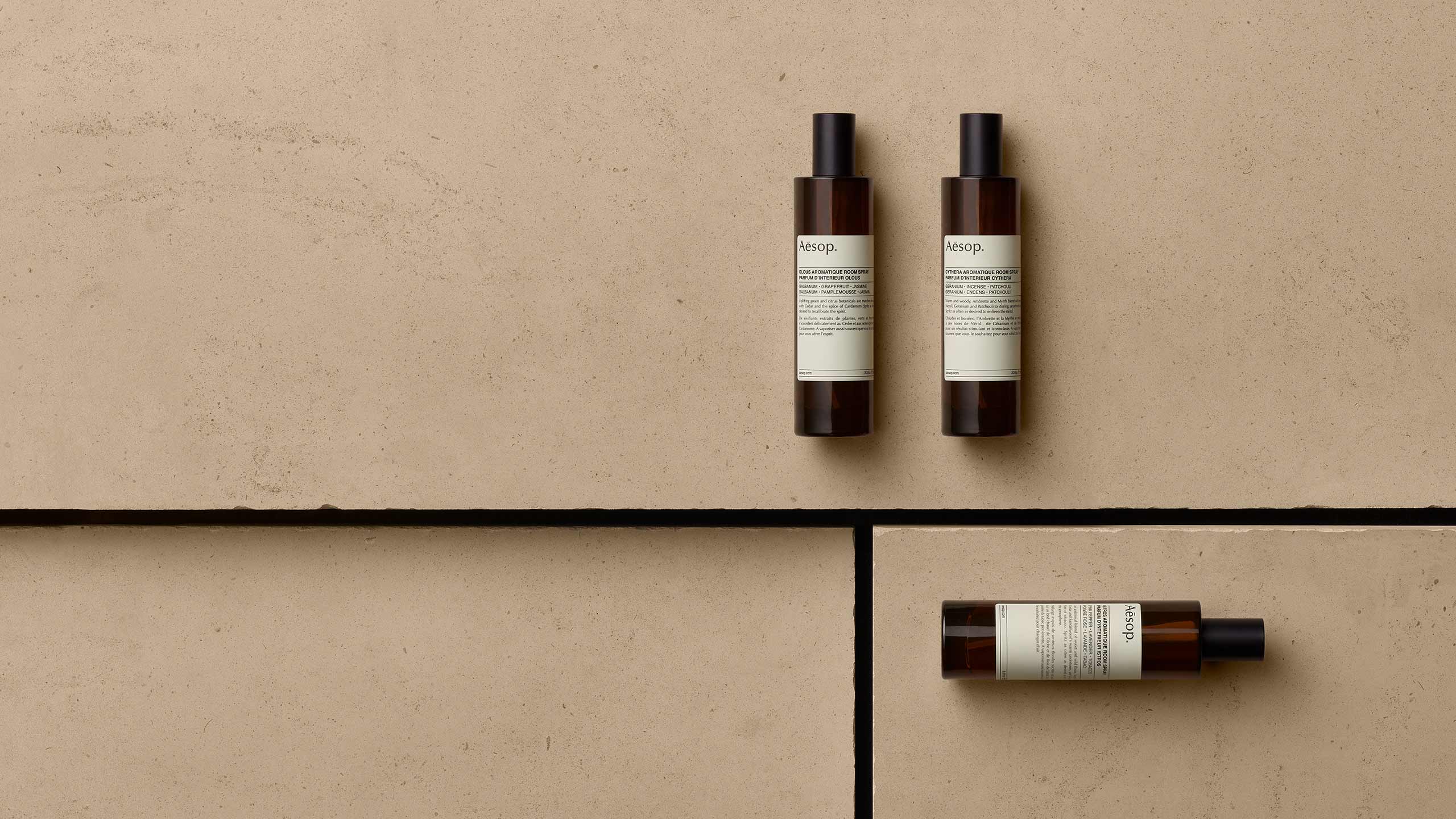 <
Cythera Aromatique Room Spray
Geranium, Incense and Patchouli come together to invoke an evening scene in Cythera Aromatique Room Spray—a fragrance of petals releasing their scent in moonlight, and the opulent, woody remnant of something ceremonial drifting on the breeze.
Olous Aromatique Room Spray
Fresh and enlivening, marked by inclusion of Galbanum, Grapefruit and Jasmine, Olous Aromatique Room Spray is an ode to elements of nature, tailored to and rendered for the home—tangled vines leading to an open doorway; cupboards laden with grains and spices; a bowl of citrus in the centre of a well-worn table.
Istros Aromatique Room Spray
Under barely bearable heat, a market throngs and thrums with merchants, performers, sightseers and daydreamers. With Pink Pepper, Lavender and traces of Tobacco, Istros Aromatique Room Spray evokes it all in a scent that is at once voluptuously floral and spicy, and faintly, entrancingly smoky.
'With consistency a great soul has simply nothing to do.'
Ralph Waldo Emerson